Home > Trips, photos > North Taiwan > Ilan (Yilan) - Keelung (Jilong)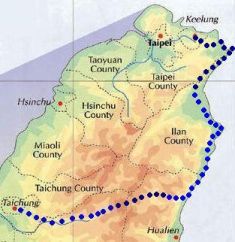 It didn't take us too long to get out of the urban sprawl around Ilan. Then we were on the coast. It wasn't raining, but it was very windy and the gusts blew our heavily laden bike about a bit on the road. We stopped for a walk at Longdong cliffs.
This area is popular with climbers. There are some more photos here;
http://www.climber.idv.tw/~y17/longdong-A/25.jpg
http://www.climber.idv.tw/~y17/longdong-B/06.jpg
After some more wind-blown coastline, we started to head inland, past some old mining works on the road to Chinkuashih (Jinguashi). I believe that these were built during the Japanese colonial era and during WWII were manned by prisoners of war under terrible conditions. Now the area just seemed picturesque and atmospheric. There were quite a few nice little hiking trails in the hills around here.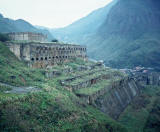 This used to be a copper ore processing plant
We stopped in Chiufen (Jiufen), famous for its pretty little winding streets and traditional-style teahouses. I didn't find it particularly pretty - I've certainly seen prettier streets in Taiwan - and most of the teahouses were closed because it was Chinese New Year's Eve. Luckily we found one that was still open, and the friendly owners cooked us up some good stuff. Inside it was all Japanese style; a lot of dark wood panelling, very nice to look at.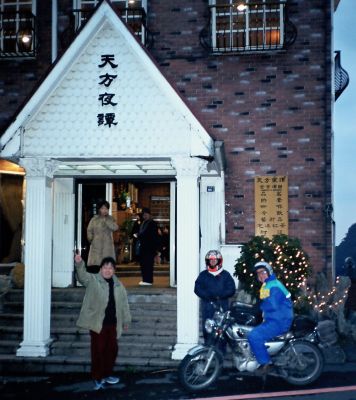 That night we stayed at a budget hotel in Keelung (Jilong), a port city. We walked around the famous night market there - said by some to be the best in Taiwan. Many of the stalls were still open and it was a good place. Then we walked a long way up a hill to where there was a giant statue of the Buddha Kuanyin (Guanyin) overlooking the docks and the whole of Keelung. (Photo here; http://www.sinica.edu.tw/tit/scenery/fig/0196_keelung3.jpg ).
We also saw a very interesting building that looked like a Chinese version of a fairy-tale castle, but which we thought was probably a temple.
We resolved to come back the next morning, Chinese New Year's Day, to take some photos, as there would surely be a lot of worshippers then.
Go to the next page: jilong-taibei