Home > Trips, photos > North Taiwan > Taichung (Taizhong) - Wushe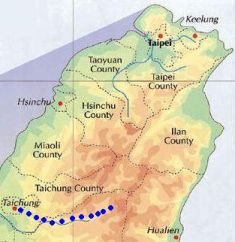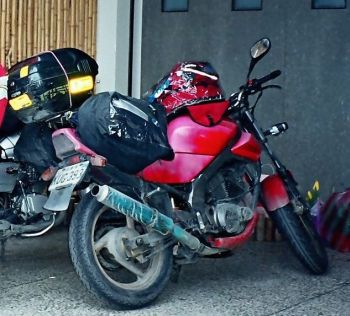 It took a while to load the bike up and find the best way to attach my new pannier bags. Two people plus tankbag, panniers and topbox is quite a lot for a 150cc motorbike to carry, but it did a good job throughout the whole trip.
It took us about 20 minutes to get out of the Taichung traffic. Our first stop was another 20 minutes later, at a big Buddhist temple in the hills beyond Taiping city. It's a beautiful temple and the nuns are very friendly.
Next stop was the wine factory in Puli. It's most famous for its Shaoxing wine which until recently was sold in clay jars, a giant version of which I'm standing next to in the picture below. I don't find the wine on its own that great, but it's nice as an ingredient in icecream and ice bars, which they sell there (I recommend the 'niangao' flavour icebar).
We got to Wushe around dusk. Mum's vegetarian- I was worried there wouldn't be any decent, hot food available for her but we spoke to the owner at a little restaurant and she cooked up some delicious vegetarian food for us- plus one beef dish for Don & I. The owner's mother was vegetarian so she had had plenty of experience cooking without meat. We had similar experiences during the whole trip- everybody was happy to cook vegetarian food for us, and generally the quality was fine. I carried two pots of vegetarian instant noodles around most of north Taiwan. They were supposed to be for emergency use for Mum, but I ended up eating them myself.
In the hotel, the owner told us that the road we were due to take the next day, the one over Hehuanshan topping out at more than 3000 metres, could be closed due to snow. This would disrupt our travel plans- at least cutting short the time we could spend in Taroko Gorge, or if the closure was over several days, forcing a complete change in itinerary. We would have to wait until morning to go to the police station and find out the situation.
Go to the next page: wushe-tianxiang