Home > Trips, photos > North Taiwan > Keelung (Jilong) - Taipei (Taibei)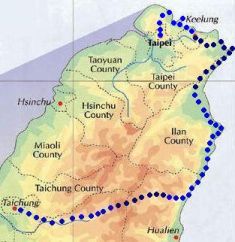 It was quite crowded at the top of the hill around the big statue of Guanyin and the temple behind it.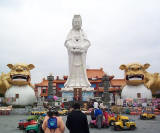 Photo by Don Silver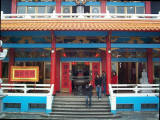 Photo by Don Silver
At the bigger fairytale 'temple' halfway up the hill we found that there were no worshippers there on the morning of Chinese New Year's Day because it was not a temple; it was a folk museum. Nevertheless we got a couple of photos.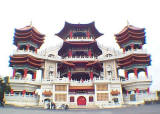 Photo by Don Silver
Another nice photo here; http://personal.primorye.ru/taiwan/Album/Keelung/keelung%20JunJen%20park.jpg
At the foot of the hill, though, Mum had seen a very busy temple and suggested we go there. Don and I had both completely missed seeing it.
It was full of people doing their New Year's worship. It turned out that this temple was part of the Foguangshan (Buddha's Light Mountain) organisation whose headquarters Don & I had visited the previous year.
Further round the coast, we stopped at Yehliu (Yeliu), where there are some interesting rock formations.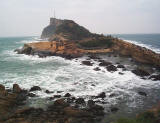 Yeliu peninsula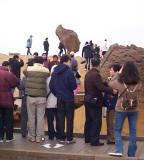 Looking at the 'Queen's head' rock formation
Photo by Don Silver
Some more pictures on this page: http://mail.apol.com.tw/~norimits/place/yeliu.htm
Heading inland up Yangmingshan, it became colder and colder. We later found out that we had been experiencing Taiwan's coldest winter in 11 years or more. Yangmingshan has a number of hot springs and as we rode we could see some steam rising further up the mountain. We came to a small stream by the side of the road which was also steaming in the cold air. We took our gloves off and dipped our hands in the warm water. It was getting dark and starting to rain. We had promised ourselves a teashop stop but ended up stopping somewhere over the other side of the mountain - a restaurant under a semi-permanent canvas marquee, in the area where a lot of flowers are grown and sold. The owner recommended the chicken, bitter melon and pineapple hotpot to Don & I - although it seemed like an odd combination, he insisted that we would enjoy it. Mum had a large plate of noodles. The hotpot was good and after I was full, I continued to drink the soup.
There was a lot of traffic coming down the mountain into Taipei city. Luckily, it was moving very slowly and in some places at a standstill, so we were able to cut through it pretty quickly. I wonder how long it took all those cars to get back into town. It must have been hours for some of them, for a journey that on a quiet day could only take half an hour.
Go to the next page: npm